The workforce today faces one of the most impactful changeovers in history.  The escalating rate of baby-boomers leaving full time employment for the leisure of retirement is bringing along with it a revitalized need for advisory firms to be good at transferring knowledge.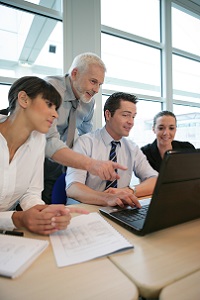 Those that ignore the issue risk losing access to valuable institutional knowledge they've relied on to create success for years.   Capturing and sharing the knowledge of experienced advisors is absolutely essential to ensure an institution's ability to remain viable into the future.
Transferring knowledge from seasoned advisors to successive generations has always been a challenge shared by firms everywhere.  A challenge now amplified by the significantly different learning styles and technology expectations of incoming millennials.
Financial institutions spend a lot of time and resources developing knowledge and capability of their advisors. The parts that get translated into procedures and policies become an integral part of their operations and will stand the test of time and turnover.  Most of that knowledge and capability ends up living in the heads of individuals where it is most at risk for being lost when career changes come to call.
A Harvard Business Review article on How to Preserve Institutional Knowledge cites the need to build an explicit strategy for maintaining information and use technology to create a process by which it is continually captured and curated.  The good news is that the platform that we've been discussing for the purpose of accelerating advisor success delivers the added benefit of providing the ability to carry this valuable institutional knowledge forward into future generations of advisors and leaders.
As professionals, advisors are always spending time perfecting their craft.  Learning and adapting to changes in the market space is essential.  Institutions expect this level of input from their advisors and must also be committed to making sure what they learn and apply can be carried forward.  In a world that is becoming more and more value based, this is a competency that will provide significant advantage in the future.
Accelerating advisor success is most valuable when you are able to maintain the momentum that you achieve.  Taking the time to consider institutional knowledge and ensure that it is built into your processes and memorialized in training and reference materials will help you do just that.