As a financial services executive, working regularly with each and every advisor is a challenge you face every day.  Because the success of your firm is directly related to the success of your advisors, you need a way to understand and effectively accelerate progress toward your shared business goals.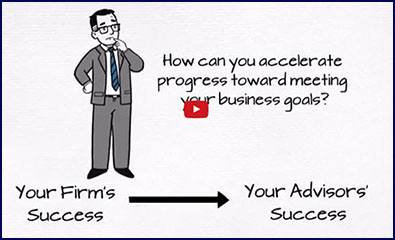 Accelerating the success of advisors requires you to:
Know the unique goals, priorities, needs and motivations of each advisor.
Develop a customized approach to make each advisor more successful.
Have an agreed upon plan to follow up on goals and progress.
To do this, you must consistently:
Assess the current situation so you can meet the advisor where they are at.
Set goals and develop approaches customized to each advisor.
Leverage your current content and resources to help advisors achieve their goals.
Track results and promote accountability.
Re-assess continuously what is working and what isn't.
All of the above are elegantly enabled by ActiFi's SuccessPro platform which helps you build and manage customized approaches to advisor success.  The platform makes accountability clear and simple for field leaders and advisors alike.  This makes it easy to monitor results, assess progress, and achieve advisor goals.
When you can't meet with every advisor as frequently as you would like to, a platform such as SuccessPro will help you focus and keep your advisors on track to meet their goals.  Offering more ways to create clarity and build progress updates into your daily, weekly, and quarterly cadence of accountability drives acceleration of advisor success.  Accelerated advisor success translates directly into accelerated firm success.
Watch for more on this topic in the coming months as we launch our next blog series; Acelerating Advisor Success.