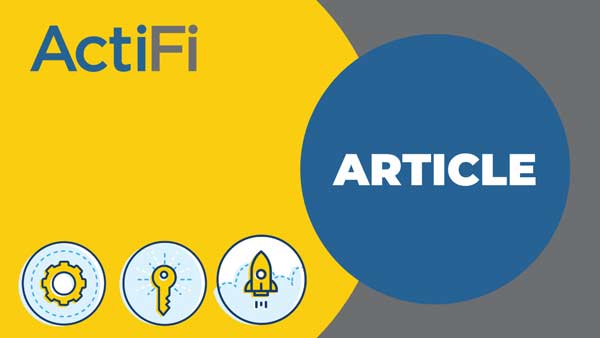 Lift Advisor Retention 6%
Oct 14, 2022
Improving and expanding advisor use of your platform technology adoption, advisor development, and solution adoption to help advisors achieve their goals and better serve their clients positively impacts their perception of your value. You can improve an advisor's engagement by effectively matching their wants and needs to available platform components. Firms with engaged advisors have recognized a 6% lift in retention rate.
Increase Usage of Strategic Programs and Initiatives
One of the most efficient ways to deepen engagement and improve advisors' perception of their partnership with the firm is to increase the usage of existing strategic programs and initiatives. Leverage technology to align advisor wants and needs to those programs and initiatives, then focus specific solutions to advisors with the readiness to adopt. The alignment will drive success and satisfaction. Many firms do this for their top ten programs and initiatives to gather information and opportunities about advisors' thoughts and priorities relative to their will, skill, and time (readiness) to adopt and use each program.
Other useful "proofs" of value are to track progress and measure results as the advisor engages more deeply in a program or initiative. This can be done through repeated assessments of their skills and thoughts associated with the use of a specific program over time quarterly, every 6 months, or once a year.
Segment by advisor readiness to maximize effectiveness. One of the best ways to roll out a new program or initiative and manage expectations is to start with an assessment of the advisor's interest in the program. By measuring each advisor's interest (want and need) and readiness (will, skill and time to adopt and use), you can segment advisors into groups that predict successful implementation and proceed accordingly (and wisely) with the resources you have available. This creates value recognition where the program is desired and prevents negative value perception where a program is not desired.
Maximize Adoption of Advisor Platforms
Financial institutions have spent considerable time and effort building out their advisor technology platforms. The current trend is to direct more focus and resources to drive effective utilization of existing platforms such as; CRM, Portfolio Management, Financial Planning, Document Management, Straight through Processing, and Marcom Tools. Driving adoption and increasing usage of these capabilities are where the actual return on the technology investment comes from.
Before you can help advisors increase the utilization of a technology platform, it is necessary to uncover the current state of adoption/utilization and investigate the root cause for any low numbers.
In one example, 35% of advisors reported limited use of a financial planning tool. Upon further examination, of those not using the tool, 65% are time constrained and 25% don't have the skills.
Teaching the time-constrained advisors how to use the tools better would not create the capacity needed to do more financial planning. Instead, a program emphasizing time management skills and appropriate staffing models helped increase utilization by 66%. Understanding actual advisor needs will improve the likelihood of adoption and increase utilization.
As with the programs and initiatives above, by measuring each advisor's readiness, you can segment advisors into groups that address their specific needs and obstacles to technology adoption. This results in the best use of your corporate resources maximizing your firm's return on investment in technology solutions and lets you engage your advisors at an individual level allowing them to experience your value proposition at a maximized level.
Why? Up to a 6% increase in retention rate and increased growth!
In this highly competitive market, financial institutions will continue to invest in their "platform" in order to better serve their advisors, retain them, attract new ones and of course, address advisor end client needs. But none of this is achieved unless these tools are designed well, function reliably, and are used. The more they are used, the more value that is recognized and the more institutional benefits that can be achieved.
Back to Engagement Hub
Get in Touch
If you're ready to get started with SuccessPro by ActiFi or you just want to learn more, our team would love to hear from you.
"*" indicates required fields